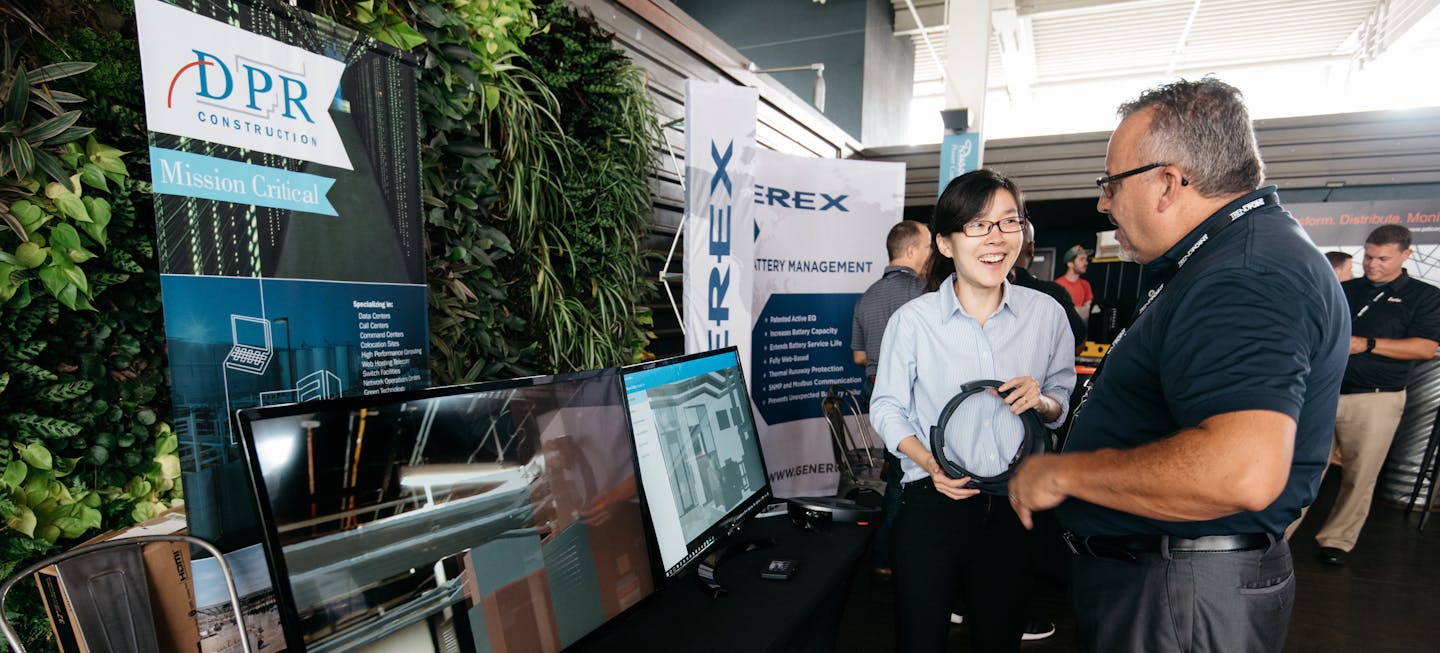 Sponsors
Our vision is to bring together the most respected thought leaders in the Data Center industry
to effectively bridge the gap between the current state of the industry and future needs and trends.
We are honored to present to your our 2018 sponsors & exhibitors.
Title Sponsor

Schneider Electric is leading the Digital Transformation of Energy Management and Automation in Homes, Buildings, Data Centers, Infrastructure and Industries with a global presence in over 100 countries.

We provide integrated solutions, combining energy, automation and software to increase efficiency, lower costs, reduce cycle time and manage risk throughout your business.

We believe that great people and partners make Schneider a great company and that our commitment to Innovation, Diversity and Sustainability ensures that Life Is On everywhere, for everyone and at every moment. www.schneider-electric.com/us
Exclusive Sponsor

Rosendin Electric

Rosendin Electric, Inc., headquartered in San Jose, Calif., is an employee-owned electrical contractor with offices throughout the United States. With revenues surpassing $2 billion, Rosendin is one of the largest electrical contractors in the U.S. employing over 6,000 people. For 98 years, Rosendin has created a reputation for building quality electrical and communications installations, building value for clients, and building people within the company.

Exclusive Sponsor

IES Communications

IES is a full-service national provider of technology services with superior resources, buying power and the best-trained people in the business. We are a structured cabling turnkey installation specialist with extensive experience in Data Center infrastructure design, installation and service. Our wide breadth of services, national workforce and service record means you only have to make one call to handle all of your Audio Visual, Data Center Integration Services, Life Safety, Security, Structured Cabling, and Wi-Fi/DAS needs. Together with our customers and partners, we design, build and service solutions that empower your world.

Exclusive Sponsor

EATON

Today, the world runs on critical infrastructure and technology. Planes. Hospitals. Factories. Data centers. Vehicles. The electrical grid. These are things people depend on every day. And the companies behind them depend on us to help solve some of the toughest power management challenges on the planet. At Eaton, we're dedicated to improving people's lives and the environment with power management technologies that are more reliable, efficient, safe and sustainable.

We are power management company made up of over 96,000 employees, doing business in more than 175 countries. Our energy-efficient products and services help our customers effectively manage electrical, hydraulic and mechanical power more reliably, efficiently, safely and sustainably. By giving people tools to use power more efficiently. Helping companies do business more sustainably. And by encouraging each and every employee at Eaton to think differently about our business, our communities—and the positive impact we can have on the world.
Help us bridge the gap between today's technology and tomorrow's demands.
For more information about sponsoring, get in touch.
Contact Us