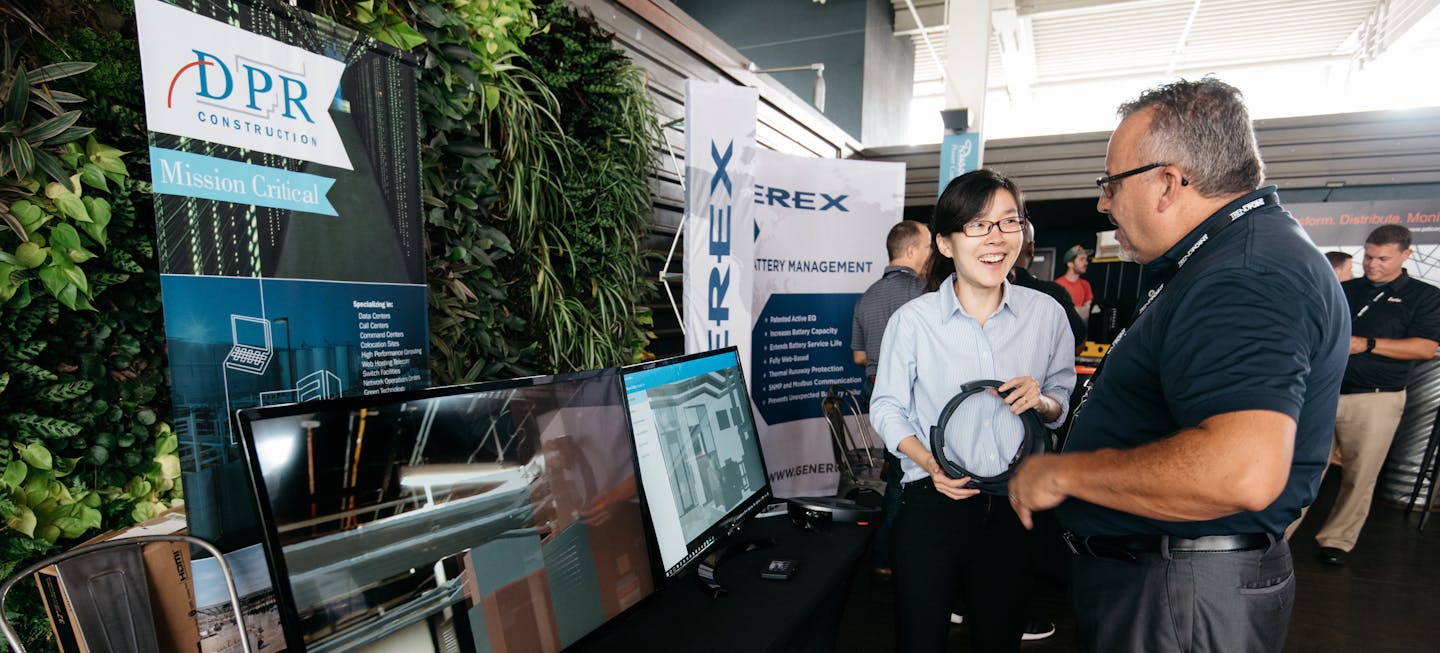 2019 Sponsors
We are honored to present our 2019 sponsors and exhibitors.
DCAC's vision is to bring together the most respected thought leaders in the tech and data center communities to effectively bridge the gap between the current state of the industry and future needs and trends.
Title Sponsor

EATON

Today, the world runs on critical infrastructure and technology. Planes. Hospitals. Factories. Data centers. Vehicles. The electrical grid. These are things people depend on every day. And the companies behind them depend on us to help solve some of the toughest power management challenges on the planet. At Eaton, we're dedicated to improving people's lives and the environment with power management technologies that are more reliable, efficient, safe and sustainable.

We are power management company made up of over 96,000 employees, doing business in more than 175 countries. Our energy-efficient products and services help our customers effectively manage electrical, hydraulic and mechanical power more reliably, efficiently, safely and sustainably. By giving people tools to use power more efficiently. Helping companies do business more sustainably. And by encouraging each and every employee at Eaton to think differently about our business, our communities—and the positive impact we can have on the world.
Exclusive Sponsor

Modular Power Solutions

Modular Power Solutions was established in 2011 as a wholly owned subsidiary of Rosendin Holdings, Inc. and a sister company to Rosendin Electric, the largest design-build specialty electrical contractor in North America. With years of global experience in building large-scale data center electrical solutions, Rosendin Electric has delivered more than $2.5B of mission-critical work. Modular Power Solutions builds on that track record with over 600MW of installed UPS capacity, making it the leader in mission-critical modular deployments for North America.

Exclusive Sponsor

IES Communications

IES is a full-service national provider of technology services with superior resources, buying power and the best-trained people in the business. We are a structured cabling turnkey installation specialist with extensive experience in Data Center infrastructure design, installation and service. Our wide breadth of services, national workforce and service record means you only have to make one call to handle all of your Audio Visual, Data Center Integration Services, Life Safety, Security, Structured Cabling, and Wi-Fi/DAS needs. Together with our customers and partners, we design, build and service solutions that empower your world.

Exclusive Sponsor

Switch Electric

Switch Electric is redefining your expectations of an electrical contractor, our approach to construction is that of a solution provider, not simply a contractor responsible for building from a set of plans and specifications. A dynamic and collaborative partnership, our unique combination of construction experience, turn-key delivery, and performance contracting provides our customers with expertise to leverage throughout the entire construction process. We are an employee-based company and believe the success of the company begins with the success and growth of every employee. A great company culture comes down to one thing, people. We define our values and mission, its up to us a team to live by them and that starts with having a cohesive team, a team that is willing to trade ideas, praise and launch recommendations. At Switch Electric, you don't need a title to be a leader and every employee is celebrated for their unique differences, strengths and weaknesses.
Help us bridge the gap between today's technology and tomorrow's demands.
For more information about sponsoring, get in touch.
Contact Us