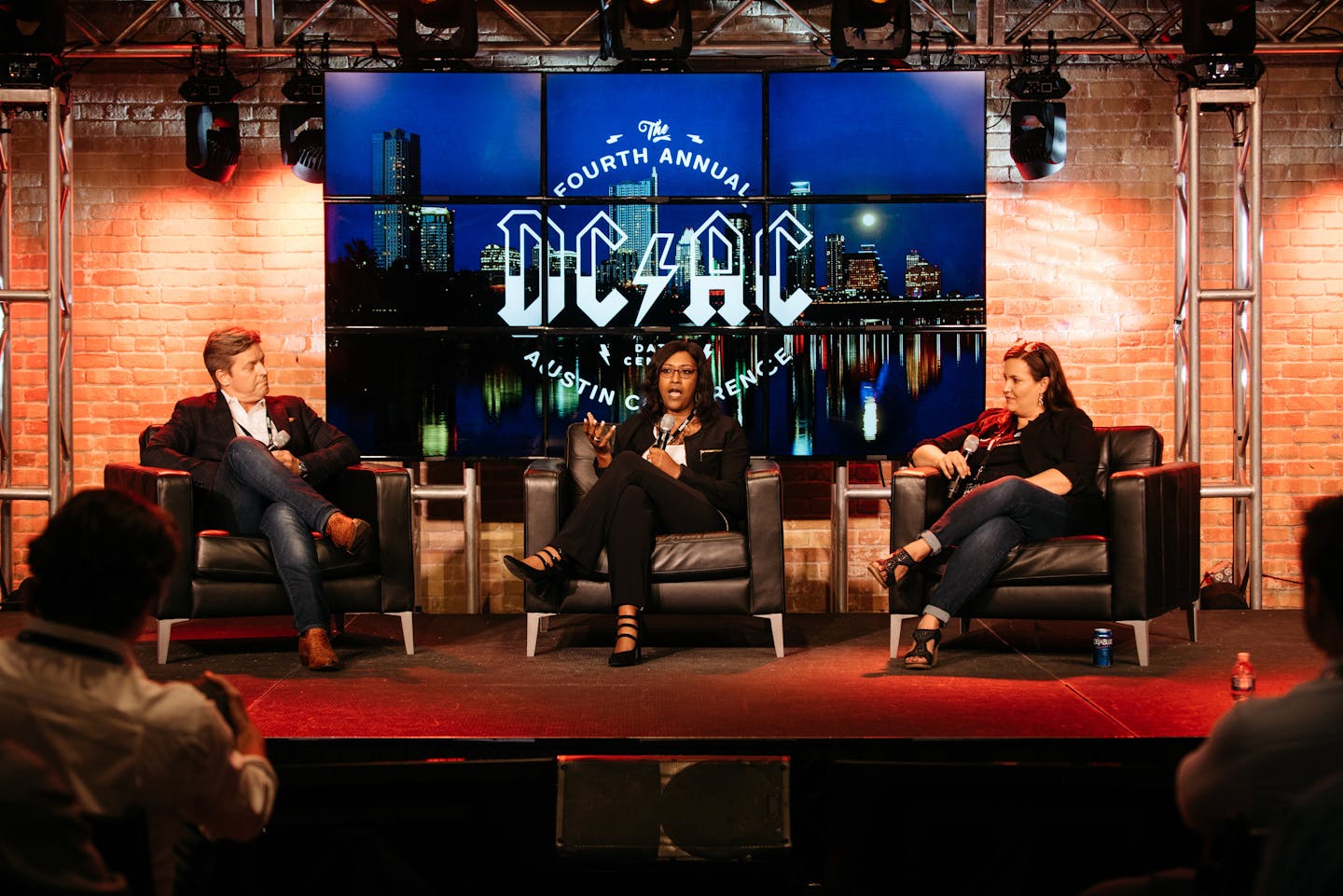 Speakers
Here's a taste of some of the industry's Rockstars and Legends
At DCAC, the speakers from such companies as Facebook, Intel, Microsoft, and PayPal represent the Rock & Roll Hall of Fame of Technology and beyond. These are people with big fat brains and even bigger ideas from outside the echo chamber of the traditional data center conference.
Subscribe below to stay informed about our latest speaker announcements
2019 State of the Data Center Industry Address
Allen Tucker

Virginia Data Center Icon
Coming Untethered: Trends Impacting Data Centers - Challenges and Opportunities

Dr. Julie Albright

Board of Directors, Infrastructure Masons

Board of Directors, Infrastructure Masons

Dr. Julie Albright

Dr. Albright is a digital sociologist who has spent her career exploring the digital transformation of society.She is a Lecturer at the Viterbi School of Engineering and the Applied Psychology Dept at the University of Southern California where she teaches courses on Sustainable Infrastructure and she is on the Board of Directors of Infrastructure Masons. She was the behavioral lead / co-principle investigator on a $121 million smart grid demonstration grant, funded by the U.S. Dept. of Energy.She has appeared as an expert on many national television programs including the Today Show, CNN, NBC Nightly News, Nat Geo, CBS, and NPR. She has also been quoted in The Wall Street Journal, the New York Times, Time Magazine and Newsweek and many others.Her new bookLeft to Their Own Devices: How Digital Natives Are Reshaping the American Dream,explores how digital natives are "untethering" from traditional social structures and processes, while hyper-attaching to their devices and social media. It was published April 2019 by Prometheus Books and distributed by Penguin Random House.


Phil Lawson-Shanks

Chief Development Sponsor, Aligned Energy

Chief Development Sponsor, Aligned Energy

Phil Lawson-Shanks

Phill has more than 25 years of experience identifying new opportunities for further growth of leading data center infrastructure, network architecture, and cloud solutions in the U.S. and abroad.As Chief Development Officer at Aligned Energy, Phillis responsible for the management of revenue generation and profitability objectives, as well as championing key marketing and communications activities aimed at maximizing new business development.Prior to joining Aligned Energy, Phill served as ChiefInnovation Officer at EdgeConneX, where he was instrumental in driving strategies focused on creating the next generation of network edge-based data centers for the digital content ecosystem. Throughout his career, Phill has also served in numerous seniorexecutive level positions at Virtacore, Alcatel-Lucent, Savvis (now CenturyLink Technology Solutions), and MCI (now Verizon Digital Media Services). He currently holds eight active technology patents.

Jennifer Cook

Head Of Production, Dreamscape Immersive

Michael Arsenault

SVP of Organizational Development , Bradley-Morris, Inc.

The IT Operations Mandate, Rethinking the cloud and data center design with HCI, and how the Nutanix Core enables hyper-dense data center environments.

Harmail Chatha

Sr. Director Global Platform Operations, Nutanix

Sr. Director Global Platform Operations, Nutanix

Harmail Chatha

Harmail is a senior level technical operational leader with a proven track record of pioneering and implementing high-growth, optimized and efficient projects, programs and technical directives across large-scale global environments, through innovative, strategic and tactical development of technical solutions that drive ROI, cost savings, efficiency and productivity.

The World of Commissioning

Shawn Tugwell

Director of Data Center Architecture and Engineering, PayPal

Why should anyone care about 5G, IoT, Edge Computing, Fog Computing, Virtual Reality, Augmented Reality, Digital Transformation or any of the other major trends occurring in the tech space right now? Hint; It's all about the customer.

Mark Thiele

Exec Director of Ecosystem and Partner Development, Edge Gravity

What Exactly Is The AR Cloud and Why Should You Care?

Amy Peck

Sr Director, Enterprise Content, HTC Vive

Sr Director, Enterprise Content, HTC Vive

Amy Peck

Amy Peck is the founder of EndeavorVR, a leading global VR/AR strategy & consulting firm, co-founder of BoundlessXR, a simulation & training platform. Amy acts as VP of Enterprise Strategy for Upload, holds several Advisory Board roles and is Co-chair of the VRARA Enterprise Committee. Amy speaks globally on Enterprise VR/AR and has long been an evangelist of this technology.

Amy launched the Enterprise division at Leap Motion before starting her own company. Her personal mission is to see VR/AR fundamentally improve every aspect of our lives with the goal of making this technology accessible and transformative for everyone. #VRARForAll

Welcome to the #TheDCAC 2019

Kirk Offel

Executive Vice President, DCAC

Executive Vice President, DCAC

Kirk Offel

Kirk has an exceptional track record of cultivating business and servicing the industry's leading financial institutions and cloud providers.

With over two decades of expertise in developing and effectively delivering product to market for leading data center and infrastructure companies, Kirk is responsible for expanding Aligned Energy's service offering to large cloud players. He also leverages the company's robust supply chain and integrated delivery model to offer scalability on-demand.

Before Offel's tenure at NOVA Mission Critical, he held various management roles, including Global Account Director at CyrusOne. Additionally, over the course of his career, he held positions at Active Power, Eaton Corporation and Hewlett-Packard's Technology Services Consulting practice while working with some of the largest data center providers across the globe. He is a member of the "Class of 2010 Military Top 40 under 40" and currently resides in Texas.

Moderator, Mitigating the Industry Shortage: Recruiting, Training & Retraining

Lee Kirby

Co-Founder/Chairman , Salute Mission Critical

Mitigating the Industry Shortage: Recruiting, Training & Retraining

Craig McKesson

EVP, Enterprise Markets & Solutions, T5 Data Centers

EVP, Enterprise Markets & Solutions, T5 Data Centers

Craig McKesson

As Executive Vice President, Enterprise Markets & Solutions, Craig leads the strategy, development, marketing and sales of enterprise IT Colocation Services and Solutions within the T5 Data Centers portfolio. Craig manages key partner relationships and supports cross-functional sales and development activities related to data center leasing, critical facility operations and identification of new market opportunities.

Prior to T5 Data Centers, Craig was an executive vice president in Jones Lang LaSalle's Tenant Representation group headquartered in Chicago specializing in global data center, corporate headquarters, and back-office / customer service site selection and advisory services and was also a founding member of the Staubach Company's Contact and Data Center practice group in Atlanta.

Craig previously served as a Captain in the United States Air Force and holds a B.S. in Industrial Engineering from the University of Miami (FL) and a M.B.A. from the University of Chicago Booth School of Business with concentrations in Finance, Marketing and Entrepreneurship.

Moving the Mountain: Locating Compute to Where the Data Resides

Jake Ring

Founder & CEO, GIGA Data Centers LLC

Founder & CEO, GIGA Data Centers LLC

Jake Ring

Jake is the Founder and CEO of GIGA Data Centers, a provider of multi-tenant colocation data center services using GIGA's proprietary WindChill™ modular system. GIGA's technology supports flexible power densities to support standard and higher-powered HPC systems yet delivers the industry's best operating efficiency. Prior to founding GIGA, he founded DC BLOX as CEO in 2014 to provide retail colocation and managed services. In 2017 he was named Vice Chairman after pivoting the company to providing expanded availability and network services, then left to found GIGA Data Centers.

Prior to this, Jake was CMO for GE Energy Management where he led the development of strategy and commercialization initiatives globally, and guided the development of markets and new technology areas for the business unit, such as creating GE's Critical Power business. Within GE Critical Power, he was GM of the Structured Systems business that delivered containerized critical power systems to enterprise customers in partnership with Hewlett-Packard.

Previously, Jake spent over nine years managing portfolio companies for private equity investors of electrical & electronic manufacturing businesses. He has also held executive leadership roles with Newark Electronics, American Superconductor Corp., and Emerson Electric, in which he led the Product Management department for the Network Power division.

Jake received B.S. degrees in Math and Computer Science from Vanderbilt University and an M.B.A. from Washington University in St. Louis.

Marcie Jastrow

SVP Immersive Media, Technicolor

SVP Immersive Media, Technicolor

Marcie Jastrow

Marcie Jastrow is an industry veteran with over 20 years in the Entertainment business. Currently the SVP of Immersive Media at Technicolor, as well as the Head of the Technicolor Experience Center (TEC), Marcie is dedicated to bringing artists, technologists, and partners together to build the future of immersive media. Since the opening of the TEC in July, 2016, Marcie has consulted on many immersive projects and has provided her insights in dozens of interviews, published articles, and speaking engagements. Focused on igniting VR, AR, and beyond, Marcie sits on several boards including the Interactive Emmys, Periscope, and BAFTA. In 2018, she was honored with the Advanced Imaging Society's 'Distinguished Leadership Award', which recognizes creative, productive and forward-thinking efforts in visual technology and emerging content. Prior to her current role, Marcie was responsible for growing Technicolor's post production sales pipeline as SVP of Sales. Before joining Technicolor, she served as EVP of Sales at Laser Pacific, which Technicolor acquired in 2011, as well as SVP of Sales at Modern Video Film for over eight years.

Missy Young

Chief Information Officer, Switch

Born to be MILD: How smarter sensors will deliver More Information and Less Data.

Blair LaCorte

President, Aeye, Inc.

President, Aeye, Inc.

Blair LaCorte

Blair LaCorte is an accomplished leader and strategist with a long history of leveraging his change management skills to drive operational alignment and company growth. Prior to AEye, he served as global president of PRG, the world's largest live event technology and services company. He was also CEO of XOJET, one of the fastest growing aviation companies in history and the largest private charter company in North America. He also served as a managing director and operating partner at TPG, a premier private equity firm with over $91B in global investments. LaCorte has held numerous executive and general management positions in private and public technology and investment companies throughout his career, including: VerticalNet, ICGE, Savi Technologies, Autodesk and Sun Microsystems. He graduated summa cum laude from the University of Maine and holds an MBA from Dartmouth's Tuck School of Business, where he later served as an executive fellow at the Center for Digital Strategies. He has garnered numerous patents across several domains, served on the Senate's High Tech Advisory Board, and has been named an "Innovator of the Year" by NASA. LaCorte is an investor and astronaut in training with Virgin Galactic, as well as an Investor in Moon Express, designer of the next generation of robotic spacecraft systems.

The Future will Be De-Centralized

Jason Carolan

Chief Innovation Officer, Flexential

W. Matthew Heaviside

President & CEO , QOOR

President & CEO , QOOR

W. Matthew Heaviside

Matthew is a native of the San Francisco Bay Area and Silicon Valley's technological engine of innovation. As Qoor's founder, he has assembled the finest leadership team, drawn from the most well-respected institutions our nation has to offer, to create a company of technological convergence—the nexus of artificial intelligence and blockchain.

Prior to founding Qoor, Matthew lived and worked internationally for Fortune 500 companies including Schlumberger, Ericsson, and Hitachi. He has consulted or worked on projects for companies including AT&T, VM Ware, Juniper Networks, Intuit, and Saudi Aramco. He is a Veteran of the United States Navy and has supported the US Government, Department of the Army, and Department of the Air Force in various roles overseas. He has lived and worked in Tunisia, Egypt, Italy, the United Arab Emirates, Saudi Arabia, and Singapore building strong leadership teams and establishing a continuing legacy of success.

Matthew believes in the power of servant leadership and service to others. His broad experience includes connecting nations to the internet via fiber optics and satellites, to harnessing energy from the earth's abundant natural resources. He is an avid technologist founded in software, advanced electronics, telecommunications, and electromechanical engineering. Matthew is passionate about electromagnetic theory and a student of the Maxwellians.

Matthew holds a BBA in Financial Consulting from the Cox School of Business at Southern Methodist University in Dallas, TX with a minor in Asian Studies. He also studied Avionics and is a graduate of the US Naval Air Technical Training Center. Matthew is a lifelong student of world cultures, religions, and anthropology including Europe, Africa, the Middle East, and Southeast Asia. He speaks Arabic, Mandarin Chinese, and Spanish.

Data Centricity and the Immersive Economy

Raj Puran

Business Development & Growth Strategy , Intel Corporation

David Coe

Senior Vice President - Strategic Programs, Orion Talent

Senior Vice President - Strategic Programs, Orion Talent

David Coe

David is originally from Celina OH and studied business and marketing at Ohio University before joining the U.S. Marine Corps in 1998. He served in the Corps from 1998 to 2008. During his time in the Corps, David held multiple positions on Active Duty and deployed with the 2nd MEF to Iraq for combat operations as part of OIF 1 in 2003. Following separation from Active Duty, David served as Company Commander, Lima Company, 3d Battalion, 25th Marine Regiment Marine Corps Reserve from 2006-2008. David transitioned to launch Orion's Strategic Accounts Program in 2007, a program focused on providing comprehensive enterprise-scale Military Veteran talent solutions to organizations that incorporates active Brand Management & Global Marketing, Organizational Training & Development, and key metric delivery & compliance. He was selected as Junior Partner in 2007, Senior Partner in 2011, and transitioned into his current role as Senior Vice President – Strategic Programs in 2014. He currently leads Orion's Strategic Accounts service line, providing a wide range of Talent Solutions to enterprise-level customers. David and his wife Sara live in suburban Cincinnati with their three sons. He enjoys spending time at sporting events, running, and with his family and friends.

Anthony Garcia

Production Operations Lead - Data Transfer Service, Oracle

Jake Hutchings

Executive Vice President of Sales, Bradley-Morris, Inc.

Executive Vice President of Sales, Bradley-Morris, Inc.

Jake Hutchings

Jake Hutchings is the EVP of Sales, with Bradley-Morris/RecruitMilitary and has served in a succession of positions of increasing responsibility including Bradley-Morris Client Partner, Director & General Manager of CivilianJobs.com, a BMI subsidiary, and Vice President of Client Services. He was recognized as the company's Rookie of the Year, Top Consultant, Employee of the year and has been responsible in placement of nearly 3,000 military service members/ veterans into corporate careers during his time at the firm.

Jake spent four years in the United States Army, including a 14-month deployment in support of Operation Iraqi Freedom before joining Bradley-Morris. His last active duty assignment was as a Cavalry Officer in the 3rd Infantry Division at Fort Stewart, GA. Jake has a BA from Assumption College in Worcester, MA.

Leading the Change

Carl Berry

Vice President and General Manager of Critical Power Solutions, Eaton

Vice President and General Manager of Critical Power Solutions, Eaton

Carl Berry

Carl Berry is General Manager of the Power Quality Critical Power Solutions business for the Americas Region. He is responsible for the growth, profitability, and strategic direction of Eaton's three-phase uninterruptible power supplies, power distribution units, surge protection devices, and power factor correction portfolios. He also provides commercial leadership to the UPS Services business (Americas) and overall leadership to the three-phase UPS global platform team to drive global growth. Recently, Carl was the Director of Marketing / Product Management for the CPSD (Critical Power Solutions Division) for the Americas Region. Previously, Carl was Product Line Manager for Eaton's Panelboards and Switchboards business. Carl has 24 years of experience in the electrical industry and has held numerous leadership positions in marketing, general management, product management, and operations. Additionally, he has entrepreneurial experience as a small business leader, where he secured valuable experience in sales and finance. Berry holds a BS degree in electrical engineering from Clemson University.

Richard Thomas

Senior Project Engineer, Rubicon Technical Services

Senior Project Engineer, Rubicon Technical Services

Richard Thomas

Mr. Thomas brings a truly diverse set skills and experiences as a Mechanical Commissioning and Quality Assurance Engineer to Rubicon's Technical Services group, as Senior Project Engineer and commissioning agent for Rubicon, Mr. Thomas' role has included work on numerous client mega data centers on campuses that incorporate multiple data centers, each with greater than 100,000 sq-ft usable IT equipment space.

The breadth of Richard's mechanical and controls background is evidenced by his role as Director of Logistics during his five plus year tenure supporting US troops at military bases and embassies in Africa, Middle East, and Eastern Europe. Richard and his team were responsible for several infrastructure projects, including the design, implementation and commissioning of reverse osmosis plants for the production and storage of clean water and ice, and its subsequent reclamation and treatment, for over 63,000 US troops and contractors. This role provided Richard with the skills and experience needed to develop and test a high reliability mechanical and controls system in a harsh environment with limited external resources, including a unique hands-on understanding of failure scenarios and their solutions. This diverse experience becomes ever more valuable as infrastructure cooling solutions themselves become more diverse in the industry. In addition to water systems, Richard's team was also responsible for fuel distribution and storage, a 20 Megawatt prime power facility, and liquid oxygen and nitrogen compression facilities

Richard then moved on to the role of mechanical Cx engineer, commissioning large-scale data centers for Google in the US & Europe and Rackspace in England, and further developing his knowledge and experience working with of data center HVAC and controls infrastructure.

Just prior to joining Rubicon, Richard further expanded his diverse engineering knowledge by providing Quality Assurance and site leadership for Veolia HPD Technologies, where he worked on large industrial projects in the US, Canada, and China.