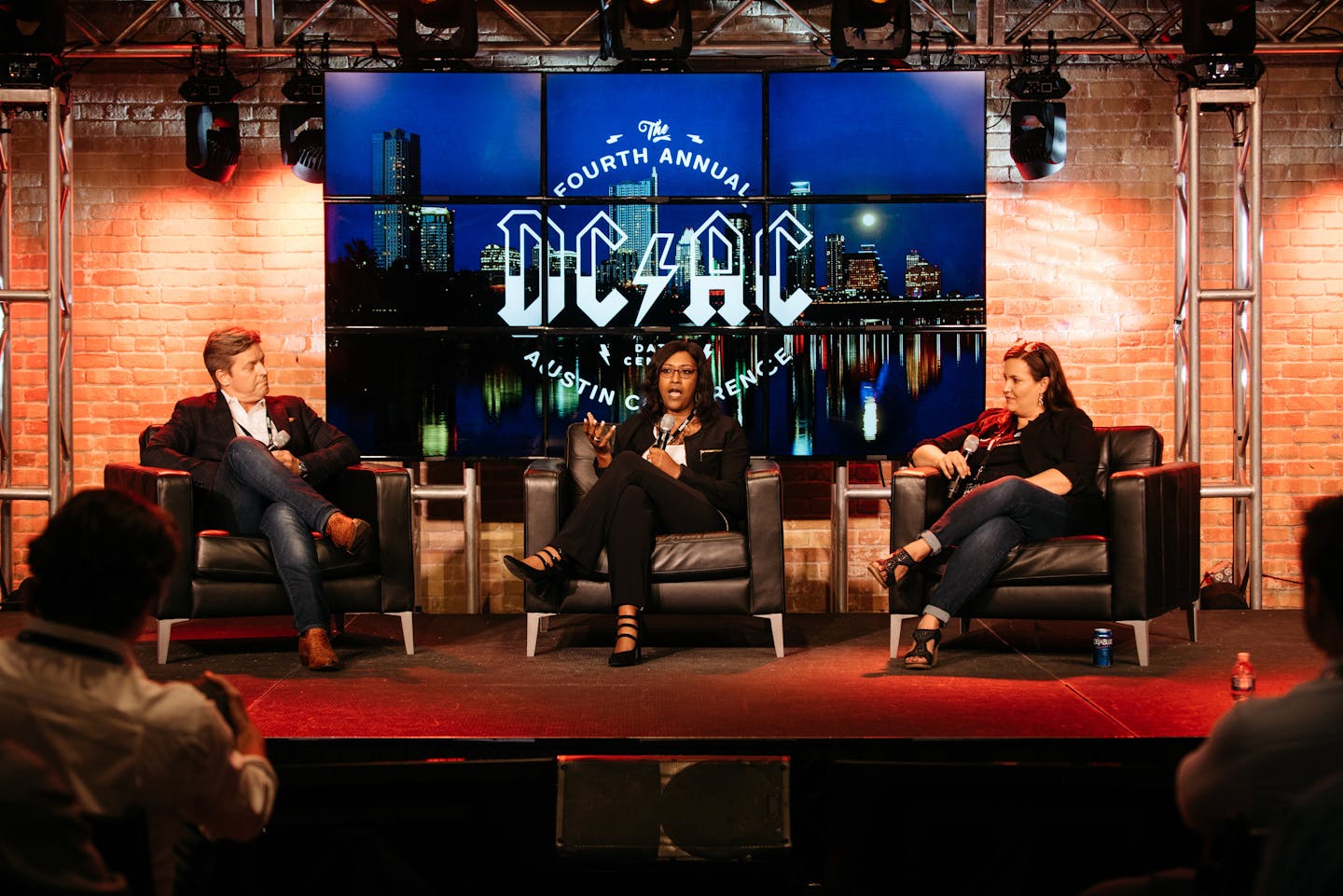 Speakers
Here's a taste of some of the industry's Rockstars and Legends
At DCAC, the speakers from such companies as Facebook, Intel, Microsoft, and PayPal represent the Rock & Roll Hall of Fame of Technology and beyond. These are people with big fat brains and even bigger ideas from outside the echo chamber of the traditional data center conference.
Subscribe below to stay informed about our latest speaker announcements
2019 State of the Data Center Industry Address
Allen Tucker

Virginia Data Center Icon
Heather Dooley

Data Center Business Operations, Google

Dr. Julie Albright

Board of Directors, Infrastructure Masons

Board of Directors, Infrastructure Masons

Dr. Julie Albright

Dr. Albright is a digital sociologist who has spent her career exploring the digital transformation of society.She is a Lecturer at the Viterbi School of Engineering and the Applied Psychology Dept at the University of Southern California where she teaches courses on Sustainable Infrastructure and she is on the Board of Directors of Infrastructure Masons. She was the behavioral lead / co-principle investigator on a $121 million smart grid demonstration grant, funded by the U.S. Dept. of Energy.She has appeared as an expert on many national television programs including the Today Show, CNN, NBC Nightly News, Nat Geo, CBS, and NPR. She has also been quoted in The Wall Street Journal, the New York Times, Time Magazine and Newsweek and many others.Her new bookLeft to Their Own Devices: How Digital Natives Are Reshaping the American Dream,explores how digital natives are "untethering" from traditional social structures and processes, while hyper-attaching to their devices and social media. It was published April 2019 by Prometheus Books and distributed by Penguin Random House.


Phil Lawson-Shanks

Chief Development Sponsor, Aligned Energy

Chief Development Sponsor, Aligned Energy

Phil Lawson-Shanks

Phill has more than 25 years of experience identifying new opportunities for further growth of leading data center infrastructure, network architecture, and cloud solutions in the U.S. and abroad.As Chief Development Officer at Aligned Energy, Phillis responsible for the management of revenue generation and profitability objectives, as well as championing key marketing and communications activities aimed at maximizing new business development.Prior to joining Aligned Energy, Phill served as ChiefInnovation Officer at EdgeConneX, where he was instrumental in driving strategies focused on creating the next generation of network edge-based data centers for the digital content ecosystem. Throughout his career, Phill has also served in numerous seniorexecutive level positions at Virtacore, Alcatel-Lucent, Savvis (now CenturyLink Technology Solutions), and MCI (now Verizon Digital Media Services). He currently holds eight active technology patents.

Priscilla Johnson, Ph.D

Director of Water Strategy for Cloud Operations and Innovation, Microsoft

Jennifer Cook

Head Of Production, Dreamscape Immersive

Michael Arsenault

SVP of Organizational Development , Bradley-Morris, Inc.

Harmail Chatha

Sr. Director Global Platform Operations, Nutanix

Sr. Director Global Platform Operations, Nutanix

Harmail Chatha

Harmail is a senior level technical operational leader with a proven track record of pioneering and implementing high-growth, optimized and efficient projects, programs and technical directives across large-scale global environments, through innovative, strategic and tactical development of technical solutions that drive ROI, cost savings, efficiency and productivity.

Shawn Tugwell

Data Center Engineering Manager, PayPal

Mark Thiele

CIO & CSO, APCERA

Amy Peck

Founder & CEO, EndeavorVR

Founder & CEO, EndeavorVR

Amy Peck

Amy Peck is the founder of EndeavorVR, a leading global VR/AR strategy & consulting firm, co-founder of BoundlessXR, a simulation & training platform. Amy acts as VP of Enterprise Strategy for Upload, holds several Advisory Board roles and is Co-chair of the VRARA Enterprise Committee. Amy speaks globally on Enterprise VR/AR and has long been an evangelist of this technology.

Amy launched the Enterprise division at Leap Motion before starting her own company. Her personal mission is to see VR/AR fundamentally improve every aspect of our lives with the goal of making this technology accessible and transformative for everyone. #VRARForAll

Welcome to the #TheDCAC 2019

Kirk Offel

Executive Vice President, DCAC

Executive Vice President, DCAC

Kirk Offel

Kirk has an exceptional track record of cultivating business and servicing the industry's leading financial institutions and cloud providers.

With over two decades of expertise in developing and effectively delivering product to market for leading data center and infrastructure companies, Kirk is responsible for expanding Aligned Energy's service offering to large cloud players. He also leverages the company's robust supply chain and integrated delivery model to offer scalability on-demand.

Before Offel's tenure at NOVA Mission Critical, he held various management roles, including Global Account Director at CyrusOne. Additionally, over the course of his career, he held positions at Active Power, Eaton Corporation and Hewlett-Packard's Technology Services Consulting practice while working with some of the largest data center providers across the globe. He is a member of the "Class of 2010 Military Top 40 under 40" and currently resides in Texas.

Lee Kirby

Co-Founder/Chairman , Salute Mission Critical

Moderator, Fireside Chat - Autonomous Vehicles Shaping the Data Center Industry

Craig McKesson

EVP, Enterprise Markets & Solutions, T5 Data Centers

EVP, Enterprise Markets & Solutions, T5 Data Centers

Craig McKesson

As Executive Vice President, Enterprise Markets & Solutions, Craig leads the strategy, development, marketing and sales of enterprise IT Colocation Services and Solutions within the T5 Data Centers portfolio. Craig manages key partner relationships and supports cross-functional sales and development activities related to data center leasing, critical facility operations and identification of new market opportunities.

Prior to T5 Data Centers, Craig was an executive vice president in Jones Lang LaSalle's Tenant Representation group headquartered in Chicago specializing in global data center, corporate headquarters, and back-office / customer service site selection and advisory services and was also a founding member of the Staubach Company's Contact and Data Center practice group in Atlanta.

Craig previously served as a Captain in the United States Air Force and holds a B.S. in Industrial Engineering from the University of Miami (FL) and a M.B.A. from the University of Chicago Booth School of Business with concentrations in Finance, Marketing and Entrepreneurship.